'Profoundly Abnormal': Photos of an Israeli Kindergarten Say a Lot About Life on Gaza Border
Oct. 28, 2014 5:11pm Sharona Schwartz   
Read original story at:
http://www.theblaze.com/?story=profoundly-abnormal-photos-of-an-israeli-kindergarten-say-a-lot-about-life-on-gaza-border
Though they endured weeks of constant Hamas rocket attacks this summer, residents of a southern Israeli community are determined to create as normal a life as possible for their children, as seen in a new mural painted on the fortress-like walls surrounding their neighborhood kindergarten.
"You visit these places and you're struck by how profoundly abnormal life is in southern Israel," Avi Mayer, a spokesman for the Jewish Agency, told TheBlaze from southern Israel Tuesday.
The Nahal Oz kindergarten is now decorated with a pastoral mural displaying trees, grass, a river and a hot-air balloon.
The effort of one of the communities most targeted during the summer hostilities to beautify its surroundings suggested how despite living under constant terror from next-door Gaza, residents are determined to remain optimistic.
Mayer visited Nahal Oz, which sits one-third of a mile from the Gaza border, both this week and six weeks ago. He took this photo of the kindergarten right after the 22-foot walls were erected: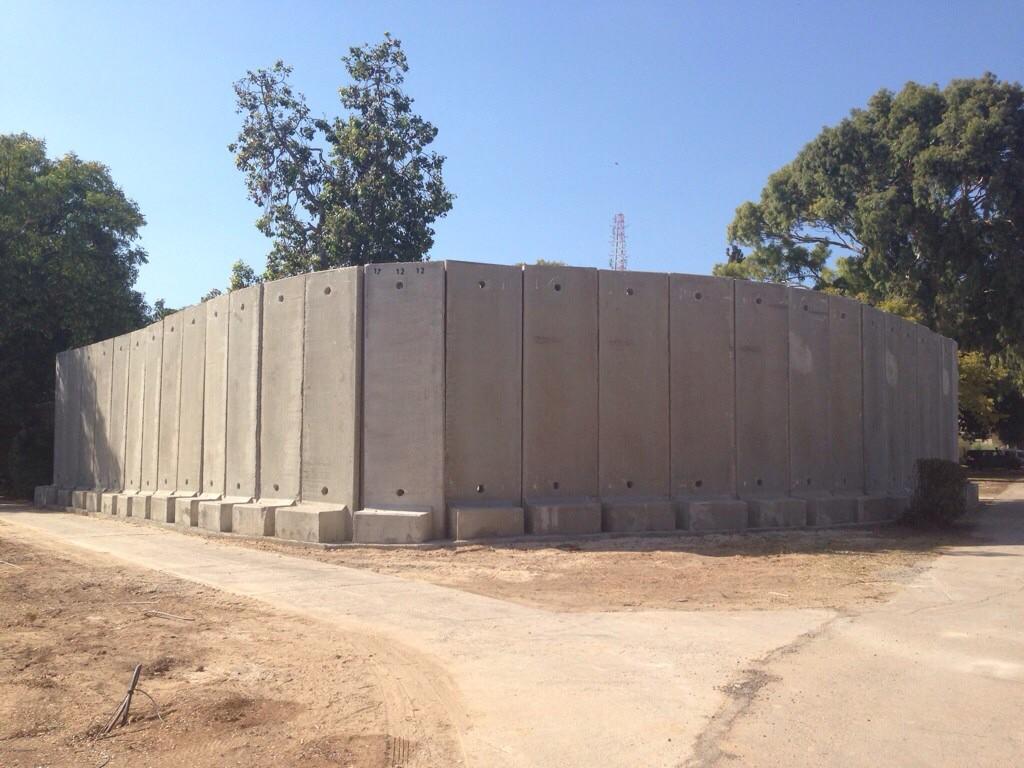 "You walk around the kibbutz [Nahal Oz], these beautiful, idyllic surroundings with green lawns and trees, and you see this stark concrete structure ahead of you. It looks like you're going to walk into an army base or some fortified bunker, and you realize this grotesquely painful measure is necessary to protect kindergarten kids," Mayer said.
"Inside the kindergarten, you see kids all over the place, playing, doing art projects with teachers, and you're struck by the contrast between the innocence within and the extreme measures necessary to protect those innocent lives," he said.
The effort to beautify the concrete barriers was also seen in this photo of a local bomb shelter next to the kindergarten:

Photographers last month captured the scene of children using the walls in their games, jumping off of ledges and pretending an enemy army was on the other side.
Four-year-old Daniel Tragerman was killed in August when a mortar shell fired from Gaza hit him while he was playing outside his home situated near the kindergarten.
"That was the starkest reminder of why these measures are necessary. You can still see marks on the asphalt outside Daniel's home," Mayer said. "It's very jarring."
The Jewish Agency, the world's largest Jewish nonprofit, this week announced grants and investments totaling $13.2 million to help southern Israel recover, including funds to assist residents who need to rebuild their homes damaged by Hamas rockets, aid to victims of rocket attacks and student scholarships.
The agency's board of governors had been scheduled to convene in Mexico, but following the rocket attacks, hundreds of delegates decided to meet in southern Israel in a show of solidarity.
A local school principal told the gathered delegates Monday, "We have to teach the kids not to hate. It's very easy to hate here. But when you hate, you don't have hope."